Open-Angle Glaucoma Market | Epidemiology | Pipeline Report
DelveInsight's Open-angle glaucoma (OAG) Market Insights, Epidemiology, and Market Forecast—2030 (7MM) report delivers an in-depth understanding of the disease, historical, and forecasted epidemiology as well as the market trends of OAG in the United States, EU5 (Germany, France, Italy, Spain, and the United Kingdom), and Japan.
Open-Angle Glaucoma is an eye disease that gradually steals vision. Typically, there no early warning signs or painful symptoms of open-angle glaucoma. It develops slowly and sometimes without noticeable sight loss for many years.
Open-Angle Glaucoma Market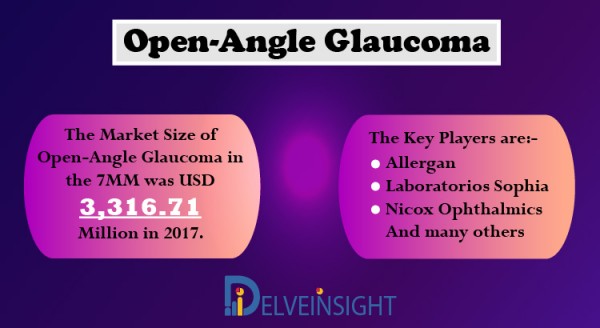 There are three mainstays for lowering eye pressure, i.e. medication, laser, and surgery. The two types of laser treatments currently used are Selective Laser Trabeculoplasty (SLT) and Argon Laser Trabeculoplasty (ALT). Surgery for Open-Angle Glaucoma includes Cataract Surgery, Micro-Invasive Glaucoma Surgery (MIGS), Trabeculectomy, Drainage Implant Surgery, and Ciliary Body Ablation. There is an array of medications to lower the intraocular pressure in Open-Angle Glaucoma, which are divided into five major classes, i.e., Prostaglandin Analogs, Beta Blockers, Diuretics, Cholinergic Agonists (Parasympthomimetics), and Alpha Agonists. Monotherapy and combination therapy should be given for effective treatment of Open-angle glaucoma (OAG).
According to DelveInsight, the Market Size of Open-Angle Glaucoma in the 7MM was USD 3,316.71 Million in 2017.
The current Open-Angle Glaucoma therapeutic landscape of advanced stage OAG is driven by several approved therapies, including those with generic products. As per the assessments, majority of the Open-Angle Glaucoma market share is accommodated by Prostaglandin analogs, followed by Carbonic anhydrase inhibitors while Miotics contributed the least towards the Open-Angle Glaucoma market share.
Open-Angle Glaucoma Epidemiology
The total prevalent population of Glaucoma in 7MM was 9,819,080 in2017.
The total diagnosed prevalent population of Open-Angle Glaucoma (OAG) in 7MM was 8,823,960 in 2017.
According to DelveInsight's analysis, in 2017, there were 2,749,378 cases of OAG in the US.
To know more on Market Size, click here @ Open-angle Glaucoma Market Size
Open-Angle Glaucoma Pipeline
Various pharmaceutical companies have started working toward the development of the novel product for this indication. Pharmaceutical companies, like Allergan, Sun Pharma Advanced Research Company (SPARC) Limited, Laboratorios Sophia S.A de C.V., Nicox Ophthalmics, and Nicox Ophthalmics are developing products that have the potential to change the open-angle glaucoma treatment landscape. Also, the pharmaceutical products of these companies are in late and mid-clinical development stages.
The products which are anticipated to be launched in the US include DE-117 (Omidenepag isopropyl), PRO-122, PDP – 716 (Brimonidine; Sepetaprost (DE-126/ONO-9054l), NCX 470, and Nyxol (Phentolamine Mesylate). Some of these products have completed the late clinical stages of development, while others are in ongoing late clinical development stages.
Open-Angle Glaucoma Treatment aims to lower the intraocular pressure (IOP) and thus reduce the risk of progressive loss of vision, using medications, laser therapy or conventional surgery. Treatment options for Open-Angle Glaucoma are rapidly expanding. However, there is no cure available still.
To know more, click for sample pages @ Open-Angle Glaucoma Companies
Media Contact
Company Name: DelveInsight
Contact Person: Priya Maurya
Email: Send Email
Phone: +919650213330
City: Albany
State: New York
Country: United States
Website: https://www.delveinsight.com/